*Spoiler alert: this list includes 100 movie spoilers (obviously). Proceed with caution*
Close-Up Culture reveal our 100 favourite movie deaths – whether they are heart-wrenching, gruesome, shocking, or amusing.
---
100. Thelma And Louise (1991) – Let's Keep Going
With the authorities hot on their trail, Thelma and Louise agree to go out together in spectacular fashion.
99. Shaun Of The Dead (2004) – There's A Good Boy
Philip gives some tender words to step son Shaun before he transforms into a zombie and tries to eat everyone.
98. Old Yeller (1957) – He Was My Dog
There are tears all round – myself included – as Old Yeller is put down by Travis.
97. The Hunger Games (2012) – Rue Dies
Katniss comforts Rue as she falls victim to the brutal Hunger Games.
96. Philadelphia (1993) – Goodnight, My Angel
Sarah and co say a tearful goodbye to Andrew at the hospital.
95. Les Miserables (2012) – Epilogue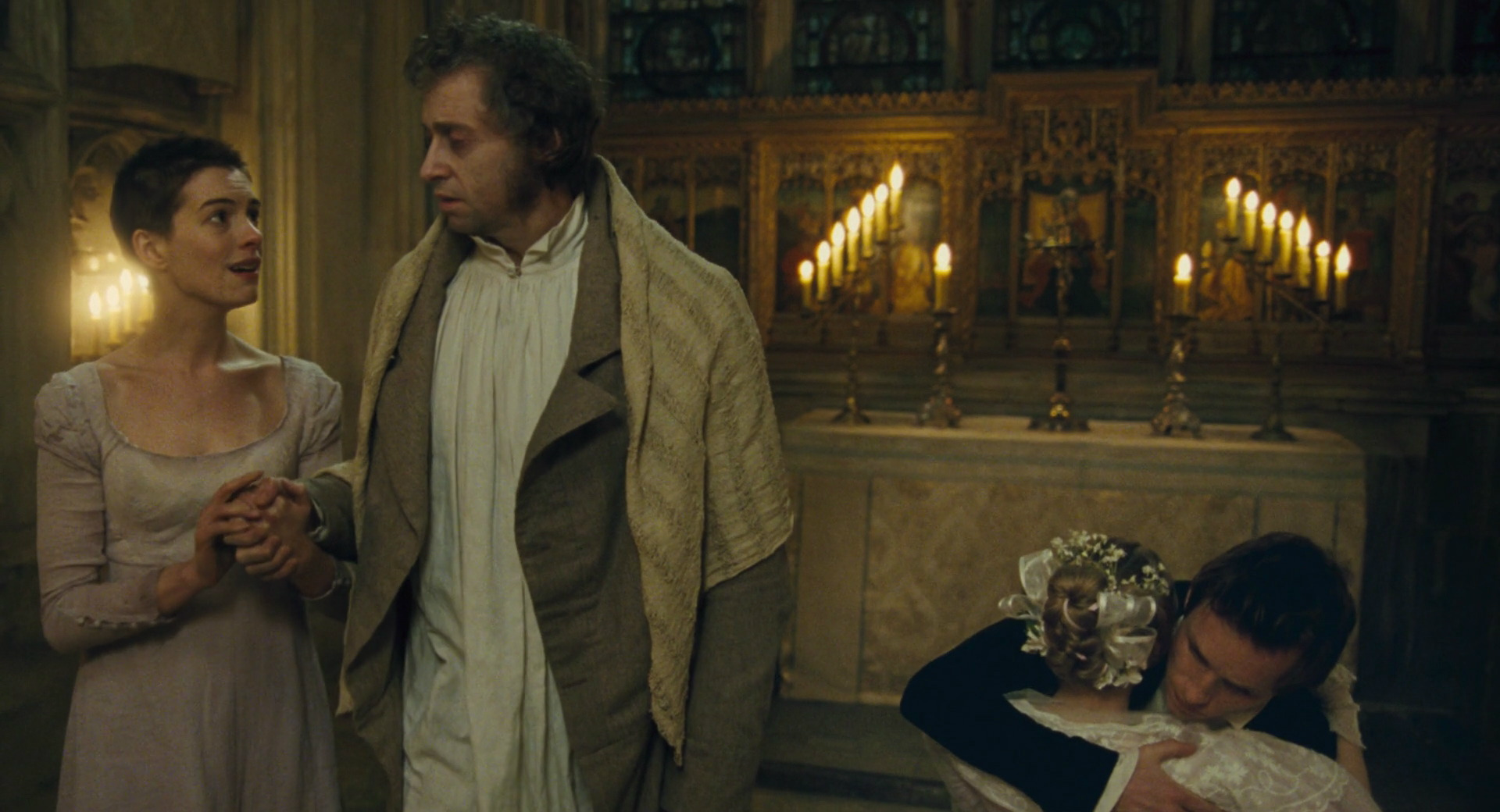 Fantine's spirit leads Jean Valjean into the afterlife – still singing of course.
94. Glory (1989) – Fall Together
Colonel Shaw and Private Trip are shot down in the attack on Fort Wagner.
93. Ghost (1990) – Robbed Of Life
Sam is shot dead by a mugger and watches the aftermath of his death as a ghost.
92. Scream (1996) – Doggie Door
After a struggle with the Ghostface Killer, Tatum gets crushed in a doggie door.
91. Shrek The Third (2007) – Live And Let Die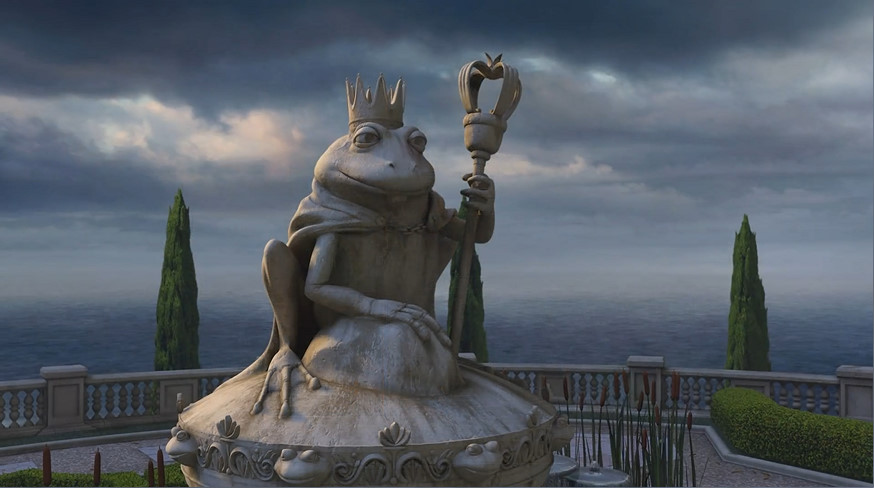 The Frog King dies in dramatic fashion, multiple times.
90. My Girl (1991) – Beehive
Young Thomas is attacked by bees in the woods, leading to many tear-jerking scenes.
89. Midsommar (2019) – Elders Sacrifice
Dani and co watch on in horror as two elders jump from a cliff to a gruesome death. Unfortunately for one elder the fall isn't enough to do this job.
88. Ex Machina (2014) – Go Back To Your Room
Ava and Kyoko get bloody revenge on their creator.
87. Halloween (1978) – Bob's Beer Hunt
Whassup? Bob apparently. His trip to the kitchen for beers is interrupted by Michael Myers, who pins him to the wall with a knife.
86. Boyz In The Hood (1991) – Ricky
Ricky is gunned down in an alleyway by one of Ferris' men.
85. The Notebook (2006) – I'll Be Seeing You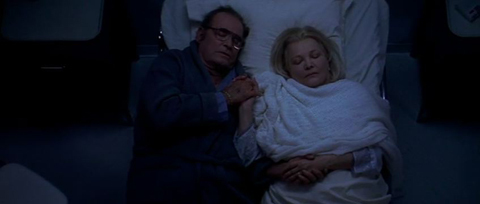 Longtime lovers Allie and Noah die holding hands in hospital.
84. A Nightmare on Elm Street 3 (1984) – Puppet Master
Of all of Freddy's creative kills, turning Phillip into a flesh puppet has to rank as the freakiest.
83. Inside Out (2015) – Take Her To The Moon For Me
Bing Bong sacrifices himself so Joy can escape the Memory Dump. A true legend.
82. Chronic (2015) – With A Bang, Not A Whimper
This agonisingly slow film ends in shocking fashion, with male nurse David being hit by a car.
81. The Thing (1982) – Chest Defibrillation
Dr. Cooper tries to revive Norris with a defibrillator but things don't go to plan.
80. The Fault in Our Stars (2014) – I Was Saving My 10
Hazel reflect on her past pain after learning of Gus' death.
79. The Exorcist (1973) – Take Me!
Father Karras commands the demon to enter his body before throwing himself out of the window.
78. Fried Green Tomatoes (1992) – Let Her Go
Idgie is comforted by Sipsey as she mourns for Ruth.
77. Harry Potter And The Half-Blood Prince (2009) – Dumbledone
Snape keeps his promise and kills Dumbledore when Draco can't. He has good dramatic fall to his death, but not the best on this list.
76. Little Women (2019) – Beth's Last Christmas
The March family enjoy one last Christmas together before Beth's tragic death.
75. Leon: The Professional (1994) – A Gift From Mathilda
Leon delivers a gift from Mathilda to Stansfield, in the form of an explosive vest.
74. Titanic (1997) – I'll Never Let Go
After the Titanic sinks, space hogger Rose *has* to let go of Jack in the icy waters of the Atlantic Ocean.
73. Inglorious Basterds (2009) – Burn It Down
Hitler and a theatre full of Nazis are burned alive and shot dead.
72. Nightcrawler (2014) – Untrustworthy Employee
Rick becomes another victim of Louis unrelenting pursuit of success, in the unsettling close to Nightcrawler.
71. The Iron Giant (1999) – You Are Who You Choose To Be
Hogarth flies into the sky to intercept a missile and save thousands of lives.
70. Django Unchained (2012) – Sorry, I Couldn't Resist
Dr. King Schultz gives Calvin Candie a deadly handshake but then, almost immediately after, meets his own demise.
69. Casino (1995) – Cornfield
Nicky and his brother are beaten to death in a cornfield. Brutal.
68. Up (2009) – The Montage Ends
The unforgettable montage in Up ends with Ellie's tragic passing. Gets me every time.
67. Braveheart (1995) – Freedom!
Scottish warrior William Wallace has one last cry of defiance before he is decapitated.
65. Harry Potter And The Deathly Hallows: Part 2 (2011) – You Have Your Mother's Eyes
Snape shares one final moment with Harry Potter after he is fatally wounded by Voldemort.
64. Logan (2017) – So This Is What It Feels Like
We say goodbye to Hugh Jackman's Wolverine as he dies in front of young Laura.
63. Star Wars: Return Of The Jedi (1983) – Another Skywalker
Yoda reveals a shocking truth to Luke before he quietly passes away.
62. The Big Lebowski (1998) – These Men Are Cowards
Donny suffers a heart attack during a car park brawl. Thankfully Walt and the Dude give him perfect send-off, or at least they try to.
61. Indiana Jones And The Last Crusade (1989) – He Chose Poorly
Walter drinks out of the wrong cup and meets a horrific end.
60. 1917 (2019) – Am I Dying?
Blake dies in Schofield's arms after a shocking incident with a pilot.
59. Marley And Me (2008) – You're A Great Dog, Marley
Mention Marley and Me to anyone and they'll likely let out a sad sigh. Dog deaths hit hard, and it's no different here as John is by Marley's side for his emotional last moments.
58. The Lion King (1994) – Long Live The King
Scar takes advantage of a stampede to murder Mufasa and cement his place as one of Disney's greatest villains.
57. Brokeback Mountain (2005) – Deceased
Ennis is told Jack died in an accident after a car tire exploded in his face, but he visualises a much more disturbing fate.
56. The Departed (2006) – Ok
Sullivan returns from Costigan's funeral to a nasty surprise from Dignam.
55. Goodfellas (1990) – Made Man
Tommy is tricked into believing he is to become a made man and is murdered.
54. Star Trek II: The Wrath Of Khan – Live Long
Kirk and the crew can only watch on as Spock sacrifices himself to save the USS Enterprise.
53. Jurassic Park (1993) – Clever Girl
Robert Muldoon appreciates the hunting nous of a raptor before it kills him.
52. Kill Bill: Vol.2 (2004) – Unfinished Business
Beatrix finally gets her revenge on Bill with the Five Point Palm Exploding Heart Technique.
51. A Quiet Place (2018) – I Have Always Loved You
Lee has an emotional message before he sacrifices himself to save his children.
50. Forrest Gump (1994) – Dying Is A Part Of Life
Forrest has to say goodbye to his childhood sweetheart Jenny.
49. Million Dollar Baby (2004) – Mo Cuishle
Frankie tells bed-ridden Maggie the meaning of 'mo cuishle' before helping to end her life.
48. Se7en (1995) – What's In The Box?
Mills is horrified to discover what's in John Doe's box.
47. Gladiator (2000) – Soldier Of Rome
After being killed by Commodus, Maximus is carried out of the arena by his allies.
46. The Lord Of The Rings: The Fellowship Of The Ring (2001) – My King
Boromir dies in the arms of Aragorn following a brave battle with uruk-hai.
45. The Shining (1980) – Anybody Here?
Hallorann returns to the Overlook Hotel, only to be greeted by an insane Jack and the sharp end of his axe.
44. The Champ (1979) – Wake Up
Billy dies after a brutal bout, leaving behind a devastated family.
43. These Final Hours (2013) – Final Seconds
Zoe and James find each other on the beach, just in time to watch the world end. An ending that would be copied for the climax of Star Wars' Rogue One.
42. Jurassic Park (1993) – No Wonder You're Extinct
In this stress-inducing scene, Dennis is devoured by a Dilophosaurus in his jeep.
41. The Hurt Locker (2008) – We Don't Have Enough Time
More unbearable tension as James is unable to take a bomb off a Iraqi civilian before it explodes.
40. Gone Girl (2014) – Bloody Sheets
Amy goes fifty shades of red with nasty surprise between the sheets for Desi.
39. Bridge To Terabithia (2007) – Where Have You Been?
Jess returns home after a day out to learn his friend Leslie has tragically died. I still haven't forgiven this film for this heartbreaking twist.
38. Saving Private Ryan (1998) – Earn This
Captain Miller uses his final words to give Private Ryan a reminder of the sacrifices that have been made for him.
37. Atonement (2007) – The Truth
Briony reveals the true and tragic fate of Cecilia and Robbie.
36. Once Upon A Time In The West (1968) – Harmonica
Harmonica gets his long waited vengeance by killing Frank and revealing his identity in unforgettable fashion.
35. Die Hard (1988) – Happy Trails, Hans
John McClane releases his watch and sends Hans Gruber crashing to a dramatic death. Now that's how it's done, Dumbledore.
34. The Wizard Of Oz (1939) – I'm Melting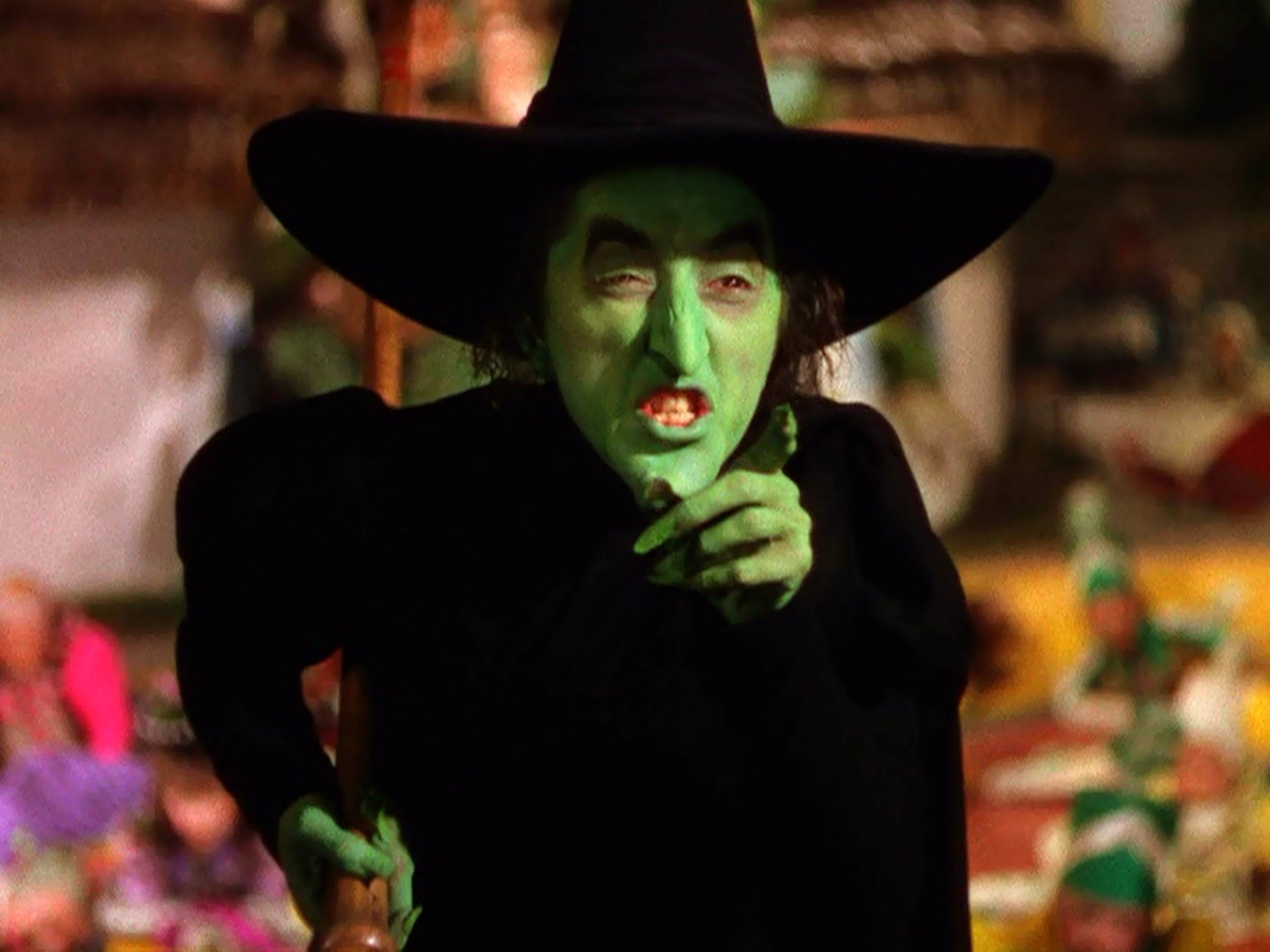 The Wicked Witch of the West melts after being splashed with water by Dorothy.
33. The Land Before Time (1988) – Let Your Heart Guide You
Littlefoot's mother imparts some words of wisdom before she passes on.
32. Mad Max: Fury Road (2015) – Remember Me
Furiosa delivers a memorable line to Immortan Joe before killing the tyrant.
31. Schindler's List (1993) – Little Girl In Red
The little girl in red – the one glimmer of colour in this devastating film, is seen among the masses of dead. A fleeting yet unforgettably powerful moment.
30. American History X (1998) – Life's Too Short To Be Pissed Off All The Time
Derek laments his terrible life decisions as his brother, who has been shot, dies in his arms.
29. Parasite (2019) – Cowboys And Indians
Chaos reigns at a birthday party as Ki Jung is stabbed by a mysterious man.
28. Star Wars : A New Hope (1977) – If You Strike Me Down
Obi -Wan Kenobi lets Darth Vader strike him down in from of Luke and Leia.
27. Jurassic Park (1993) – The Elvis Death
Lawyer Mr. Gennaro is eaten by a T-Rex while hiding in a toilet.
26. House Of Flying Daggers (2004) – A Rare Beauty In The North
The tragic close of House Of Flying Daggers sees Mei die in Jin's arms.
25. Night Of The Living Dead (1968) – Right Between The Eyes
Ben survives a night of zombie chaos before mistakenly being shot right between the eyes by the living.
24. Rocky IV (1985) – If He Dies, He Dies
Rocky throws in the towel too late as Drago pummels Apollo to death.
23. Platoon (1986) – Look To The Sky
Elias falls to his knees in dramatic fashion as gunned down by the Viet Cong.
22. Midsommar (2019) – Bear In The Big Burning House
Midsommar comes to a close with Christian, who is stuffed into a disemboweled bear's body, being burned alive as part of a ritual sacrifice.
21. Apocalypse Now (1979) – The Horror
Colonel Kurtz quotes T.S Eliot after a fatal attack by Captain Willard.
20. The Hate U Give (2018) – Hairbrush
In the haunting opening to this film, Khalil is shot dead by a white police officer during a routine car stop.
19. Hereditary (2018) – Lost Her Head
Peter's ill-fated drive ends with his sister, Charlie, losing her head – literally. A numbing moment that left me wanting to run out of the cinema and never think about Hereditary ever again.
18. Full Metal Jacket (1987) – I Am In A World Of Shit
After a torturous training camp, Pyle shoots Sgt. Hartman dead and then kills himself.
17. The Departed (2006) – Elevator
Sullivan evades capture in a shocking turn of events as Costigan is shot dead by Trooper Brown.
16. Raiders Of The Lost Ark (1981) – Melting Nazis
The Ark of The Covenant is opened and a bunch of Nazis die in spectacular fashion. A lot fascists dying in gruesome ways on this list – smashing stuff.
15. Pulp Fiction (1994) – I Shot Marvin In The Face
Vincent needs an expert clean-up job after he accidently shoots Marvin in the face.
14. The Shining (1980) – Frozen Jack
Jack fails to make his way out of the maze and succumbs to the snowy weather.
13. Do The Right Thing (1989) – Raheem's Death
Radio Raheem is killed by a police officer in this deeply disturbing scene.
12. The Godfather (1972) – The Gonefather
The Godfather isn't gunned down or blown up like most mobsters, he suffers a heart attack while playing with his grandson in the garden.
11. Scarface (1983) – Say Hello To My Little Friend
Tony goes out all guns blazing.
10. The Deer Hunter (1978) – One Last Shot
Michael and Nick play one final round of Russian roulette.
9. Jaws (1975) – Quintessential Horror
Quint meets a terrifying end in the jaws of cinema's most feared shark.
8. The Green Mile (1999) – Don't Put Me In The Dark
John Coffey dies on the electric chair in this heart-breaking scene.
7. Star Wars: Return Of The Jedi (1983) – You Were Right About Me
Luke Skywalker takes off Darth Vader's mask and looks into the eyes of his father, Anakin Skywalker, as he passes away.
6. Blade Runner (1982) – Tears In The Rain
Roy delivers some iconic final words to Deckard before dying.
5. King Kong (1933) – Beauty Killed The Beast
King Kong falls his death after an aerial attack.
4. Alien (1971) – Chestbuster
A jovial dinner between crewmates is interrupted by the horrific sight of a chest busting alien.
3. Citizen Kane (1941) – Rosebud
Citizen Kane begins with the death of Charles Foster Kane, a scene that cinephiles continue to study and admire for its symbolism.
2. Bambi (1942) – Your Mother Can't Be With You Anymore
One of cinema's most heart-wrenching scenes sees young Bambi lose her mother.
1. Psycho (1960) – Shower
Marion is stabbed in the shower in cinema's most iconic murder scene.
---